Sanme is a global mobile rock crusher manufacturer and supplier. We always focus on developing new technology and create more wealth for customers. Sanme rock processing plants includes different types such as rock jaw crusher, impact crusher, cone crusher, mobile crusher etc. Rock mobile crusher is the most favorite rock crushing plant nowadays. It is flexible for different applications and easy to move from one working site to another, which greatly save working time and improve production efficiency and capacity. If you are interested, please feel free to contact us. Sanme experts will analysis your requirements and design a best crushing solution for you.
Mobile rock crusher Application
The mobile rock crusher is applied to multistage crush large materials, and then screen the discharges according to their different specifications. The whole set plants is widely used to mine, building material, highway, rail way and hydropower industries, etc., finish crushing and screening operations at one time, produce required size and output for consumers.
Mobile rock crusher features and benefits
The moblie rock crusher plant has the advantage of reasonable matching, unobstructed discharge all line, reliable working, convenient operation, high efficiency and saving energy. Especially the mobility is very good, so it can extend with the raw material places or the construction place, and it can also make multiple matching, get to different product requirements.
Mobile Rock Crusher Composition and working principle
The mobile rock crusher plant is composed of primary crushing and screening station and secondary one, belt conveyor, etc. Every crushing station is an independent working unit, they can respectively assume their different responsibility, and the belt conveyer is responsible for material transmitting and piling up between each crushing station.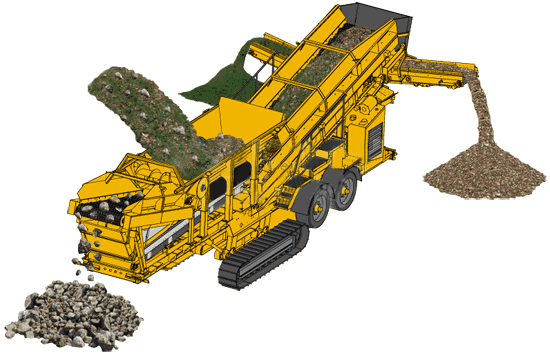 Mobile rock crusher technical data:
MP-PH Series Mobile Impactor Plants

MP-PH 10

MP-PH 14

Impact crusher

AP-PH-A 1010

AP-PH-A 1414

Feed opening size(mm×mm)

810×1030

1025×1360

Max feed size(m3)

0.3

0.5

Max edge length in one direction(mm)

800

1000

Crushing capacity(t/h)

up to 250

up to 480

Drive

diesel-direct

diesel-direct

Driving Unit

Engine

CAT C9

CAT C18

Performance (kw)

242

470

Feed hopper

Hopper volume(m3)

4.8

8.5

Grizzly feeder with pre-screening(two-deck)

Drive

hydraulic

hydraulic

Main conveyor belt

Discharge height(mm)

3100

3500

Drive

hydraulic

hydraulic

Side conveyor belt (option)

Discharge Height(mm)

1900

3500

Drive

hydraulic

hydraulic

For transportation the head-piece can be folded
Crawler unit

Drive

hydraulic

hydraulic

Permanent magnetic separator

Magnetic separator

option

option

Dimensions and weight
Working dimensions

-length (mm)

14600

18000

-width (mm)

4500

6000

-height (mm)

4200

4800

Transport dimensions

- length (mm)

13300

17000

- width (mm)

3350

3730

- height (mm)

3776

4000

Approx weight (t)

43

70